Fiji is known for its fun, beach-party atmosphere. This is a place where you can relax and soak up the sun every day, and enjoy all the Schoolies' celebrations every night. Fiji is one of the safest Schoolies destinations, yet still offers all the attractions that make Schoolies week so memorable for everyone.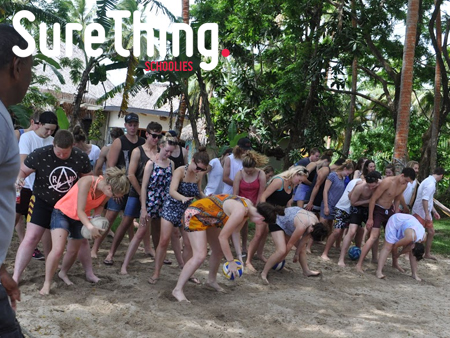 If your group is looking for an awesome Schoolies week celebration in Fiji, Sure Thing Schoolies Travel offers the widest range of options. During the day you can explore the beaches, take day tours, enjoy the water activities and experience the culture on the mainland, and at night you can discover the bars, clubs and nightlife of Fiji.
Planning your Schoolies week with Sure Thing Schoolies Travel promises you:
Awesome Hotels
Daily Activities
Nightly Entertainment
Great Parties and Events
Extra Security
Best Prices
And more …
There's no need to worry about transportation, flights, accommodation, deadlines, fitting everyone in – Sure Thing Schoolies Travel does it all for you.
It's also important to know some of the precautions that can help to keep everyone safe and healthy. Sure Thing Schoolies has a 100% Safety record for the 14 years that it has been running Schoolies events, and there is staff on site at the Schoolies accommodation at all times. All employees at Sure Thing Schoolies are Fully Accredited and Qualified.
Schoolies week for 2021 at Fiji: Details and Packages are now available.
To take the first step fill the form below or email us at schoolies@surething.com.au
We are only one click away!
---